By Terrance Hawkins
"It's just like when you've got some coffee that's too black, which means it's too strong. What do you do? You integrate it with cream, you make it weak. But if you pour too much cream in it, you won't even know you ever had coffee. It used to be hot, it becomes cool. It used to be strong, it becomes weak. It used to wake you up, now it puts you to sleep."
Malcolm X ( The Farce on Washington)
"Each one's work will become clear; for the Day will declare it, because it will be revealed by fire; and the fire will test each one's work, of what sort it is."
-1st Corinthians 13:3
"Until the Lion tells her part of the story, history will always glorify the hunter."
-African Proverb
The Farce on Washington, 1963
The inspiration behind the title "The Farce On Winston" is found In 1963 when the US Empire witnessed one of the largest mobilizations of the Black freedom struggle to date. Hundreds of thousands of people came to the nation's capital for the March On Washington for Jobs & Freedom. Today, this march is almost universally acclaimed as a triumphant moment of the Civil Rights Movement and a testimony to the power of Black-led non-violent protests. For good and for bad, it cemented Martin Luther King Jr as the nation's greatest orator and its central champion of racial justice. The extemporaneous (off-script) "I have a dream" portion of his speech, originally titled "The Canceled Check", has been hailed as the defining moment of King's witness and the aims of the movement that birthed him. (Nevermind the fact Martin would later say that his dream was "naive" and had "become a nightmare.")
All that said, there is a counter-narrative to that legendary march that is under-engaged. It came from Malcolm X. Malcolm infamously called it the "Farce on Washington." He was a fierce critic of the march. His assessment was that the idea of a march on Washington began organically as a militant rallying cry of poor and working-class Black folks, but was institutionally co-opted. It was initially to be a disruptive, threatening, leaderless, and antagonistic uprising that shut down Washington until the powers bent their knees to Black demands. In Malcolm's own words:
"Groups of Negroes were talking of getting to Washington any way they could–in rickety old cars, on buses, hitch-hiking–walking, even, if they had to. They envisioned thousands of black [people] converging together upon Washington–to lie down in the streets, on airport runways, on government lawns–demanding of the Congress and the White House some concrete civil rights action."
The white power structure was deeply afraid of this possibility and sought to get "ahead of it" by deputizing accommodationist Black leaders to take the helm. Malcolm said that Kennedy called in big-shot Black leaders like Roy Wilkins and told them to "call it off." To which X said they replied, "'Boss I can't stop it, because I didn't start it." Speaking of Kennedy's response to Black leadership's admission of being out of the loop:
"That old shrewd fox…said, 'If you aren't in it, I'll put you in it. I'll put you at the head of it.'"
In essence, the powers infiltrated the planning and began to set parameters that were agreeable to white capitalist interests. Incentivized by promises of financial support for their organizations, "The Big Six" acquiesced and watered down some of their demands to fit within the desires of the powers. It was a case of what critical race theorist Derrick Bell would later call "interest convergence."
According to Malcolm: "[March on Washington leaders] had been told how to arrive, when, where to arrive, where to assemble, when to start marching, [and] the route to march." For instance, James Baldwin was not permitted to speak for fear that his speech would be too controversial and the more aggressive aspects of then SNCC member John Lewis's originally drafted speech were edited out. The March on the capital went from being a militant all-Black protest, to being a more tame and racially integrated one. Malcolm went as far as to say that "it ceased to be a march. It became a picnic, a circus. Nothing but a circus, with clowns and all."
(Does any of this sound familiar, Winston-Salem?)
Malcolm went on to pierce the veil of what was happening with this provocative analogy:
"It's just like when you've got some coffee that's too black, which means it's too strong. What do you do? You integrate it with cream, you make it weak. But if you pour too much cream in it, you won't even know you ever had coffee. It used to be hot, it becomes cool. It used to be strong, it becomes weak. It used to wake you up, now it puts you to sleep."
Was Malcolm fair in his assessment? I would say that for the most part, he was. This does not necessitate that we erase the importance of that march in the Black Freedom struggle. It also doesn't mean that none of the liberatory sensibilities of its origins survived the state's infiltration. It means we must hold those two narratives in tension with each other and learn the historical lessons. Things aren't always so black and white, cut and dry. Freedom work is messy and always an imperfect endeavor. The powers are quite adept in the art of co-optation. With this lens in mind, I draw our attention back to Winston-Salem, summer 2020.
Fatigue, Farce, and Fire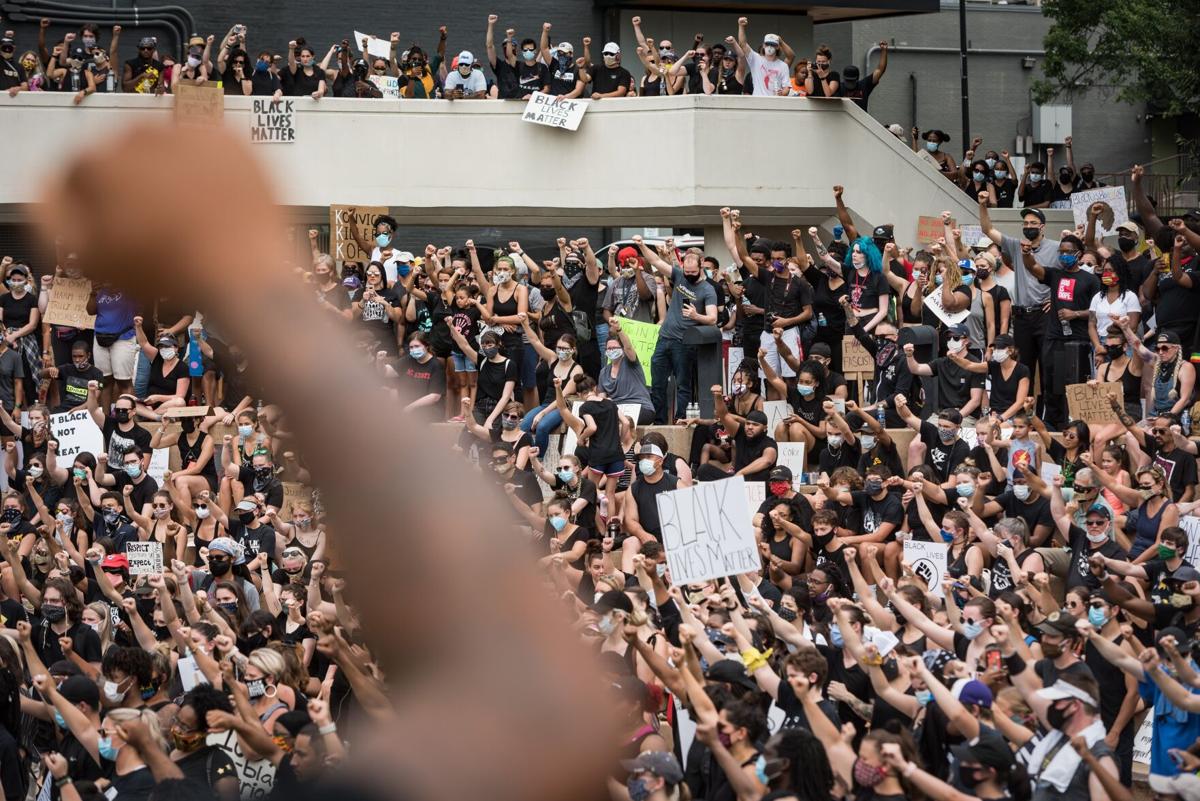 One of the most noticeable things about the protests in Winston-Salem was that they were often majority white. Quite a strange sight to behold. It was a sight that inspired some, but bewildered and puzzled others. Folks like myself were mostly annoyed by the racial optics and lack of direction of it all. A quick, but incomplete explanation for the lack of melanin and overwhelming amount of "creamer in the coffee" is 2- fold:
1.) Most of the demonstrations were planned by people who were not rooted in the Black community. For that reason, word spread fast in white networks, but was slower to find its way to Black networks.
2.) Black organizers, the larger Black community, and their accomplices were experiencing a deadly cocktail of COVID-19 exhaustion and racial battle fatigue. Many of us had labored ourselves into burnout trying to respond to the crisis of Covid-19 in our communities. That reality, on top of the day-to-day trauma of being Black in America was enough to make some hesitant to participate.
Nevertheless, in a "white sea" of farcical demonstrations, various groups shored up islands of bonafide resistance throughout the summer. The summer of 2020 might be broken down into 3 waves of protests. A first wave, mostly characterized by fluff. A second wave, that began to turn the heat up, and a third wave that truly demonstrated the emptiness of the ruling elite and their accomplice's interactions with the first wave.
The Black-led fire of resistance seemed to begin burning more prominently in mid-to-late June. On Juneteenth, an ideologically diverse all-Black coalition of grassroots activists called the "Rails Coalition"–whom sheriff Bobby Kimbrough would later call "sh*t stirrers" — commandeered a downtown Juneteenth march to go public with their 3-fold demands:
Defund the Police. Fund healing justice.
Fund a Community-Controlled Truth & Reparations Commission
Institutionalized reparations for Black Winston-Salem in the form of major investment in majority/historically Black neighborhoods, debt cancellation, land, etc.
As a member of the coalition, and having delivered the speech that set the stage for these demands, I can say with deep honesty, that this act was not petty, nor was it a personal attack on anyone.  It was bigger than any one personality or group. It was about the fierce urgency of shifting the energy, putting opportunists on notice, and re-centering home-grown Black grassroots voices. In the closing words of my speech I said: 
"…to the wet-behind-the-ears 'anti-racists' in this space: we welcome you with revolutionary love. But to the opportunists…we say to you: 'you will not gentrify our movements!'"
Longtime local and national organizer Nakida McDaniel repeated this theme as she along with Miranda Jones spelled out our coalition's demands saying, "We were here before ya'll, and we'll be working in our communities when y'all decide to leave." Truer words were never spoken. 
Just 10 days after that, the fire of prophetic disruption was turned up even more as protesters began shutting down highways, performing sit-ins and die-ins in affluent white parts of town, paying the mayor's house a "visit", and more! And it is here that the emptiness of the power structure's gestures of support began to be exposed for what it truly was: a farce. To be clear, I and others maintained from the very beginning that their presence at protests and statements of solidarity were hollow and should be called out explicitly as such. Still, there are some things that are revealed by the fire.